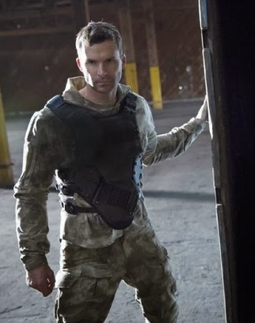 Brian Hayward (portrayed by Paul Lacovara) was a minor character from Season 1 of Marvel's Agents of S.H.I.E.L.D.. He was a soldier of the Centipede Project, augmented with a device that administered a serum into his body that gave him superhuman strength. He appeared in the episode "The Bridge".
Biography
Formerly a soldier in the U.S. Army, Hayward had fallen off the grid after returning from a three-year tour of duty in Afghanistan. He was recruited by the Centipede Project, which was actually a division of the reborn fascist organisation HYDRA controlled by a mysterious individual known as the Clairvoyant. As a Centipede operative, Hayward was equipped with a device on his arm that administered the Centipede serum that boosted his strength well above the human norm. He was also given a cybernetic eye implant which allowed HYDRA to monitor his actions and deliver orders to him via a digital readout to his ocular nerve.
Hayward led a team of Centipede soldiers to the Havenworth Federal Penitentiary to free Edison Po. He was called by his sister Laura after she was approached by Grant Ward and learned that someone was looking for him.
He took part in an ambush on the S.H.I.E.L.D. team led by Phil Coulson in Oakland, California. Coulson shot him with the Night-Night Pistol to no effect, but Hayward was abandoned by the other soldiers after he was surrounded by the S.H.I.E.L.D. agents. Hayward was killed when Raina triggered the kill-switch in his ocular implant, frying his brain.