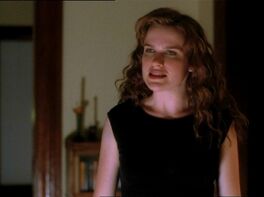 Cynda (portrayed by Mariah O'Brien) is a minor character from the TV series Charmed, appearing in the Season One episode "Thank You For Not Morphing".
She was a demonic shapeshifter who tried to steal the Charmed Ones' Book of Shadows, shortly after they unbound their powers in 1998.
Cynda moved in with two other shapeshifters, Marshall and Fritz, next door to the Halliwell sisters after learning they received their powers. She posed as Marshall and Fritz' younger sister. The shapeshifter troupe forced the sisters' father Victor Bennett to assist them in trying to discover a way to get into Halliwell Manor so they could steal the Book of Shadows.
Cynda was the most aggressive of the three demons and tried several times to convince the others that they should try an all out assault on the Charmed Ones. They were later vanquished by Prue, Piper and Phoebe with a spell.
Community content is available under
CC-BY-SA
unless otherwise noted.