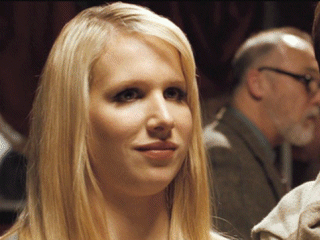 Eve Draper is a resident of Sandford and an absolutely awful stage actress in Hot Fuzz. She is portrayed by Lucy Punch.
History
A member of Sandford's city council, Eve was also a stage actor and played the role of Juliet in Martin Blower's production of Romeo & Juliet. The play was horrendous and Eve only got the lead role because she was having an affair with Blower. She was also known for her distinctive squeaking laugh.
Death
Eve and her lover Martin were both murdered by the Neighbourhood Watch Alliance, their heads severed and left in the road with their car not far from them. The fanatical NWA had set up the murder to appear as a traffic collision. Both Eve and Martin were the NWA's first victims since Sgt. Nicholas Angel transferred to Sandford and the sergeant conducted his own investigation into the incident. Nicholas' investigation led him to believe that Eve was murdered for her involvement in the purchase of a large plot of land, but when he discovered the NWA's involvement, they revealed that they only killed her because she was a terrible actress with an annoying laugh.