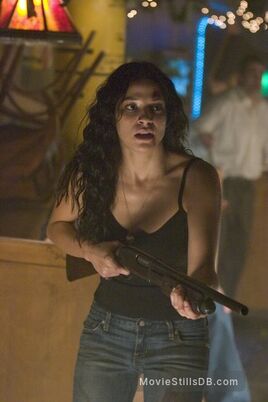 The Heroine is one of the main characters of the horror-comedy film Feast. She is portrayed by Navi Rawat.
Profile
NAME: HEROINE
OCCUPATION: WEAR TANKTOP, TOTE SHOTGUN, SAVE DAY.
LIFE EXPECTANCY: HOPEFULLY BETTER THAN THE LAST HERO
Overview
After dropping her daughter off at her grandmother's house, the Heroine and her husband - the Hero - drove across the desert until they ended up running over a strange creature. After their car was overturned, the pair ran for their lives as other creatures like the one they hit appeared and pursued them. The Hero would make it to the Bear Tavern where he urged the patrons there to lock the place down, but he was ultimately the first one to fall victim to the monsters. The Heroine arrived there a short while later only to find her husband decapitated.
After three more people were killed by the monsters, the surviving patrons managed to lock down the tavern. Most bickered and panicked while they were trapped inside the tavern, but the Heroine consistently kept her cool and remained level-headed as she thought up strategies to ensure everyone's continued survival. Later, the group came up with a plan to escape by making a decoy to lure the monsters to the back of the building. They decided to build a makeshift bomb and tie it to one of the corpses of the slain patrons, using the corpse to bait the monsters and give the Heroine a chance to reach Bossman's truck.
After taping the bomb to Harley Mom's body, Bozo and Boss Man tried to lift her upstairs while the Heroine went outside to draw the monsters' attention. As it turned out, Harley Mom was still alive and started pleading for help. Bozo wanted to help her, but Boss Man forced him to throw her out and set the bomb off. After the bomb went off, Bossman urged Bozo to play dumb and reinforce his lie to the others that Harley Mom was already dead. Bozo instead got angry and punched Bossman, leading to a fight between the two. It was at that moment that the Heroine came around to their side of the building and climbed through the window. As Bozo and Bossman struggled, the gun in Bozo's hand went off and the bullet struck the Heroine. She fell to the ground and was quickly overwhelmed and devoured by the two adult monsters.