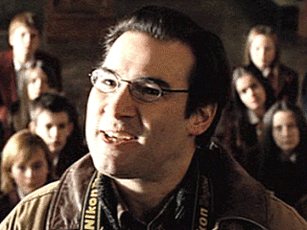 Tim Messenger was a Sandford resident and journalist in Hot Fuzz. He is portrayed by Adam Buxton.
Background
As Nicholas Angel tries to acclimatise to his new position on Sandford's police force, Messenger occasionally asks for the chance to interview him. Angel isn't interested and most of Sandford's residents dislike Messenger due to his apparent ineptitude at his job. His newspaper articles are constantly filled with grammatical errors and spelling mistakes and he even mistook Mary Porter's age as 55 when she was only 53.
Death
During a church fête, Messenger asks to interview Nicholas around the side of the church regarding the supposed murders that have taken place in Sandford. As Nicholas goes to meet with Messenger at the appointed time, a cloaked figure pushes a cracked stone carving off the roof of the church and on to Messenger's head. Messenger's head is crushed and splattered.
When Nicholas confronts the Neighbourhood Watch Alliance about the murders, they reveal that Messenger didn't know anything regarding the deal for Leslie Tiller's land and they only killed him because he was a poor journalist.
Community content is available under
CC-BY-SA
unless otherwise noted.