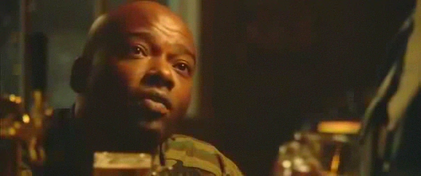 The Vet (as in veteran, not veterinarian) is a minor character from the comedy-horror film Feast. He is portrayed by Anthony "Treach" Criss and is the second character to die in the film.
Profile
NAME: VET
FUN FACT: HAS NEVER HAD FUN
LIFE EXPECTANCY: DON'T ASK, DON'T TELL
Overview
The Vet is one of several patrons relaxing in the Bear Tavern that serves as the setting of the film. Little else is known about him except that he has a wife, whom he planned on kissing and sleeping with after leaving the tavern. Before he can go through with any such plan, however, the Hero arrives in the bar and warns everyone that a group of monsters are on their way. He is then killed as he is about to barricade a window.
After the Hero's wife enters the bar, she and the Vet go to the window in order to block it off with a table. However, the monster outside the window knocks down the Heroine and then impales the Vet through the stomach with its claws. The Vet dies and his body falls on top of the Heroine.